J&B Met Betting Odds And Race Review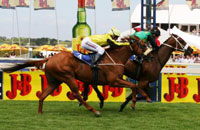 This weekend we'll see South Africa's most prestigious and famous horse race taking place at Kenilworth Racecourse in Cape Town. The J&B Met traditionally takes place on the last Saturday of January every year, and this year the race falls on the 31st. It is a race of great passion that draws in crowds of over 50,000 of South Africa's horse racing betting fans. You can always be sure of one thing; it's going to be an intense and exhilarating event. This article previews the race by taking a look at some of the favourites and their odds for this premier event.
Last Year's J&B Met
It's always worth looking at the result of last year's race to uncover any valuable information about this year's betting. Hill Fifty Four ridden by Anton Marcus and Trained by Vaughan Marshall won the 2014 J&B Met at odds of 16.0. This was after coming very close to winning the 2013 J&B Met. The hot favourite Master Of My Fate experienced some interference at the start of the race and could only recover to fifth place. So the draw could prove to be an important betting factor in the race and is something worth considering when placing your bets.
This Year's Favourites
Let's take a look at the favourites for the J&B Met and their current odds.
Legislate – Trained by Justin Snaith, Legislate was the hot favourite for the J&B Met. However his failure to even come close to winning the Queen's Plate earlier in the month has put a cloud over the horse and his chances in the J&B Met. It turned out that Legislate had a minor chest infection and it's questionable whether he should have been running. It's reported that a full recovery will be made before the race but bookies and punters are still unsure. This means that Legislate is currently third favourite and can be backed to win the J&B Met at odds of 4.3.
Futura – Trained by Brett Crawford, Futura is now the bookies favourite for the big race. This is in part a reaction to Legislate's defeat in the Queen's Plate at Kenilworth when hot favourite. However don't underestimate Futura. He showed that he's also a class act and won like the true grade one horse he is. The four year old horse is even better suited to the extra distance of the J&B Met so it should be an exciting race. Expect the horse to be well placed and amongst the mix for the top spot throughout. Futura can currently be backed at odds of 3.0.
Louis The King – The Triple Crown winner trained by Geoff Woodruff's stable is the second favourite for the big race. Louis The King performed very well in the Queen's Plate and his strong finish meant that Futura only held on by three quarters of a length. He'll again be ridden by champion jockey Pierre Strydom so expect the horse to put in a really strong showing. He can currently be backed at odds of 3.2.
Gold Onyx – This horse is definitely an outsider but is still one worth considering. Ridden to third place in the Queen's Plate by jockey Grant Behr the pair clearly get on well and Behr has retained his ride. The horse lasted well in the final few furlongs, and on its day could do very well. Expect Gold Onyx to be in with a chance; it could be a very good option for place betting.
Recommended Bets
Legislate's preparation for the race has been far from ideal, and whilst trainer Justin Snaith was happy with his run out at the recent public gallops, his stagnated training regime means he will not be in the best of shape. We therefore recommend Legislate as our lay bet.
We recommend backing Futura at odds of 3.0 to win the race outright. It ran very well in Queen's Plate, and looked supreme at the public gallops. Add this to the fact that seven of the last nine races have been won by the winner of the preceding Queen's Plate, and Futura really does look like a value bet even at odds of 3.0. He has a good draw so it doesn't look like the interference issue for last year's favourite will be a problem this time around.